Corsair's Jewels Review
Match 3 jewels by moving them on board and win great bonuses which haven't been seen in any similar games!
PROS
Great graphics
Addicting gameplay
Innovative bonuses
Two play modes - Time attack vs. Arcade
Selectable difficulty
Decent music and sound effects
When I started playing this game, I thought that it's gonna be another game where you just swipe the jewels on board to match 3 and it will be very similar to Jewels Deluxe or Candy Crush Saga. I was astonished, when I saw how innovative the game is! But first things first. Now I'll describe the basic principles of the game. If you know the basics already, you can skip to the Bonuses section, where it get's quite interesting.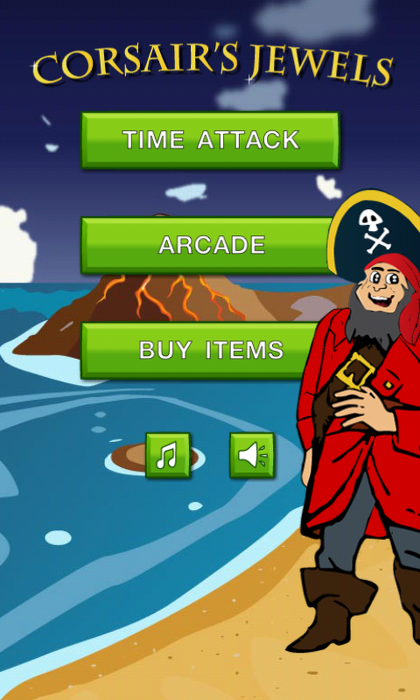 Gameplay
Your goal is to exchange two neighbouring jewels by swiping to create a row (or column) of at least 3 similar jewels. If you make a match of 4 or 5 jewels, you will get a special bonus. The rules for the bonuses are nicely described in the tutorial which will appear when you run the game for the first time.
There are two play modes - In Time Attack mode you have 90 seconds to reach a target score. I think this could be renamed to Hart Attack mode in higher levels :-) The other game mode is Arcade. In Arcade mode your time begins at 45 seconds and by doing matches the time increases. When the time reaches 90 seconds (i.e. 1:30), you win the level.
 
Bonuses
 
You can either collect these bonuses, as they fall down from time to time from the top, or you can also cheat and buy them. The most visible innovation are the bonus buttons at the bottom of the screen. You can see 3 of them in the following picture.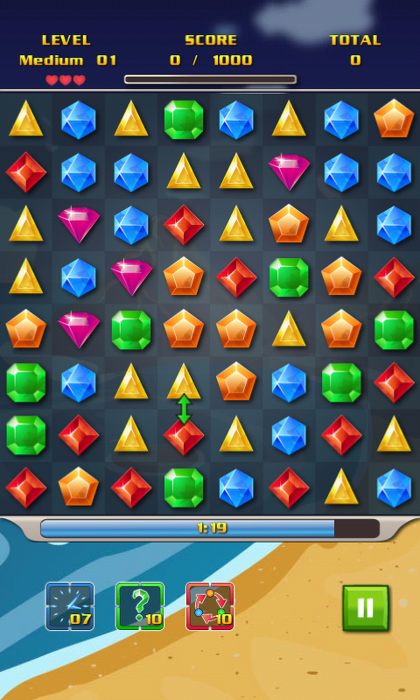 The first bonus button with the blue clock is, as you can guess, a time bonus. If you tap on it, you will get about 20 seconds added to the time bar.
The second button with the green question mark can help you out, when you don't see any possible move. It will show hints on all gems which can be moved.
The last one is a Reshuffle button, which you can use when it seems that there are no more moves. It takes all the stones and shuffles them, so that every jewel changes it's position.
There are also other bonuses, which you can gain by matching 4 or 5 jewels, or matching various jewel shapes like L or T shape.
There is another great thing about the bonuses. You can keep them from game to game. So you can play a game to gather a lot of bonuses and then begin another game, use the bonuses and beat your friend's score :D.
Difficulty
A big advantage of this game is, that you can choose any difficulty from Easy to Insane. This setting basically influences how many different gem colors will be available on the screen. I usually play at Medium or Hard difficulty, but some people may prefer just Easy difficulty if they just want to relax and win easily.
Conclusion
The game is great and addicting and I'd recommend playing to everyone. I love the new gameplay, great graphics and sounds. This is a must have for every casual player.